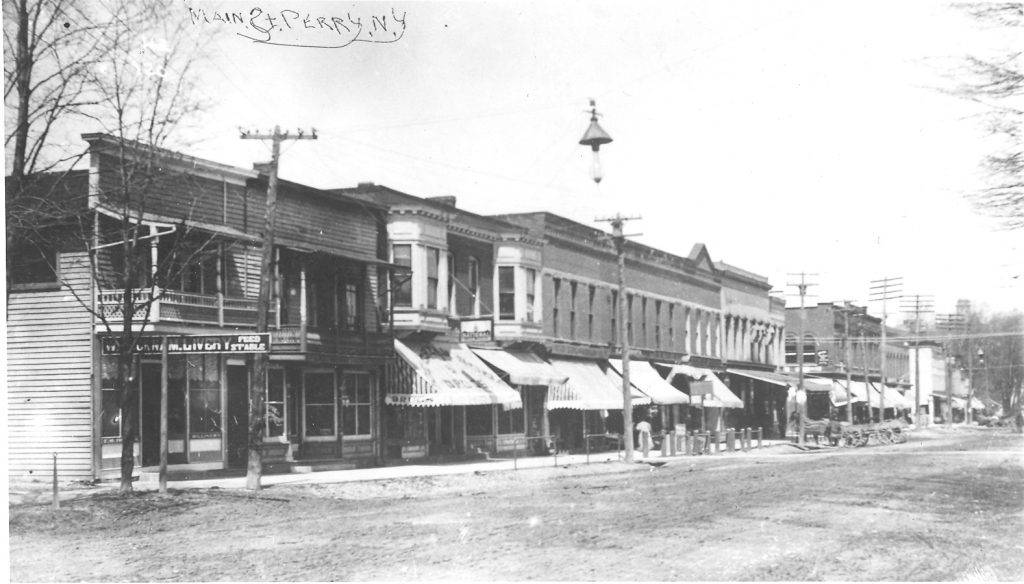 The Perry Public Library holds a collection of past issues of the Perry Herald from the late 1800s to now. These archives have been transferred to a searchable online database through the generous donations of local Perryians as well as a bullet aid grant provided by Senator Patrick Gallivan. Money was also donated by Project Read to honor members Ruth Parker and Vera Parmiter for their many years of service. Find this online collection here – http://perrypubliclibrary.advantage-preservation.com/
Photography Collections
The Perry Public Library is home to two impressive photograph collections that chronicle the history of not only Perry, but the wider area around us. The Clark Rice Photography Collection as well as the Henry Page Local History Files total more than 10,000 individual documents. Currently these files are only available to the library staff, but if you have any research or recreational searches that you would like done, please feel free to contact the librarian at perrylibrarydirector@owwl.org.
Please note – the Clark Rice Collection is currently unavailable for reference requests.
We are working on digitizing these important photographs. The first few hundred from the Henry Page Historical Files have been uploaded to New York Historic. They are available here – https://nyheritage.org/collections/henry-page-historical-files
Additionally roughly 500 images from the Clark Rice collection have been digitized. Those are available here – https://nyheritage.org/collections/clark-rice-photography-collection
Perry Knitting Mill
In 2020 a class at SUNY Geneseo used a selection of the library's materials regarding the Perry Knitting Mill to develop a photographic archive of pictures of the Mill, as well as an interactive presentation on the history of the Mill.
Photograph archive is available here – https://openvalley.org/collections/show/11
Interactive online presentations – https://openvalley.org/exhibits/show/perry-test/welcome