Welcome to Summer Reading 2021! We are so glad you could join us. We have many things happening this year so check out our calendar and event descriptions below for more details.
Summer Reading Challenge
Track your reading and win prizes! This year, you have the option of tracking on paper (tracking sheet available at the library after you register) or through ReadSquared, an online platform where you can sign up and track your reading to earn badges, play mini games, and check out new titles related to the theme Tails & Tales. One nice feature of the online tracking is you are able to sign up multiple people under one account so that a parent or guardian can track for the whole family.
This year, we have 3 age groups: PreK (ages 0-5), Children (ages 5-11), and Teen (12-17). Register at the library or through ReadSquared to learn more and find out what prizes you can earn.
Registration begins June 21st, both in person and online. Tracking starts July 1st and runs through August 14th. Prizes must be picked up by August 27th.
Calendar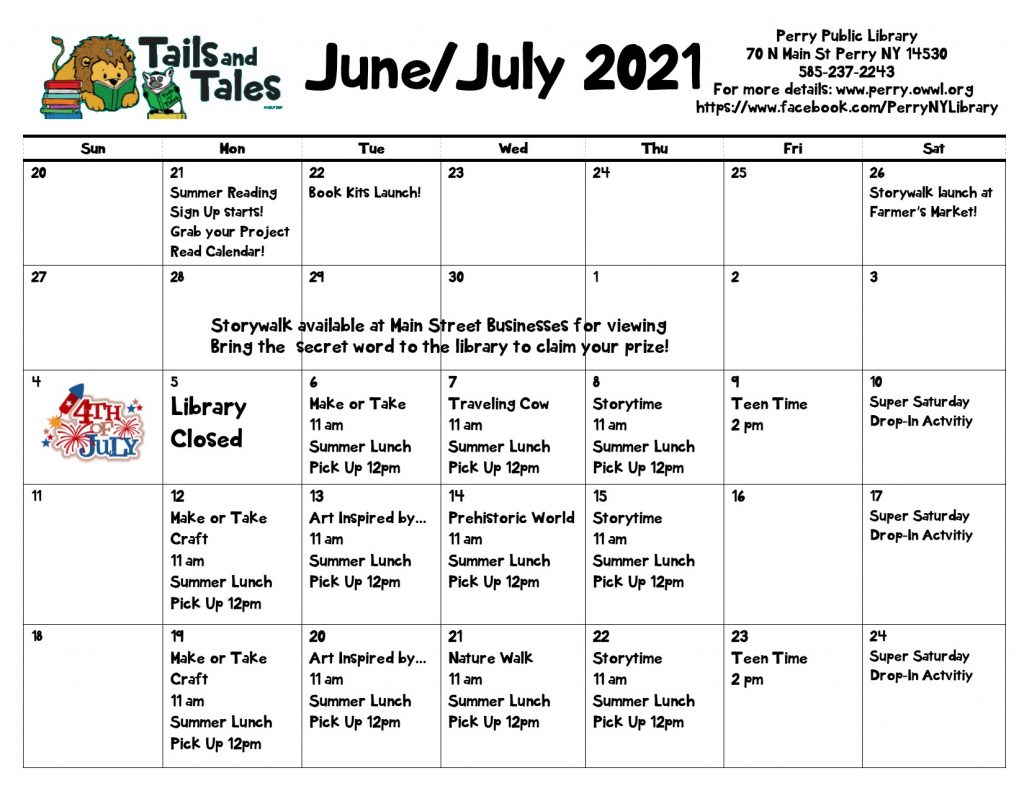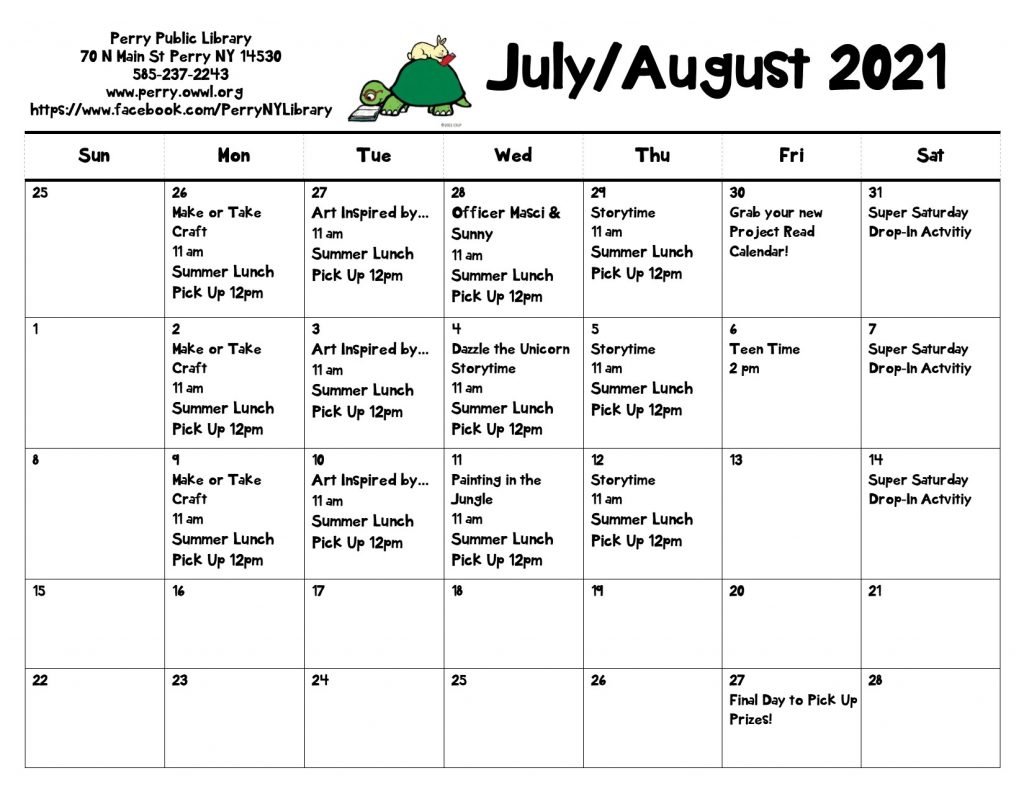 In-person Event Descriptions
Make or Take Mondays- We put out crafts so we can make together while spread apart. Extra craft kits will be available for pick up later in the day.
Art Inspired by… Tuesdays- So many famous artists and illustrators created art inspired by animals. We look at just a few examples and create projects inspired by their work.
Special Guest Wednesdays
Storytime Thursdays- Storytime for ages 0-5, but older siblings are welcome. Features books, songs, fingerplays or flannelboard play appropriate for the PreK crowd. Can't join us in person for Storytime? Check out our Virtual Storytime! page.
Teen Time Fridays- Make a craft, hang out with friends, plan for Fall 2021!
Virtual & At-Home Events
Check out our Virtual Storytime! page
Make or Take Crafts- Extra crafts kits from Monday events will be available while supplies last starting Monday afternoons.
Book Kits are Back!
Each kit features books, a DVD, and an extension activity sheet. See the list below including picture, link to additional materials list, and to download the extension activity sheet.
You are allowed to take one kit at a time, and place a hold on one kit at a time. These must be picked up and returned at Perry public Library. Any questions, please let us know!
Put one of the kits on hold in our catalog!